Moin Moin, Welcome to the ****g
Boutique & Lounge NordWest-Hotel "Amsterdam" in Bad Zwischenahn!
In the middle of the nature and spa area of Bad Zwischenahn, in the green and in the immediate vicinity of the Zwischenahner Meer, lies our First Class Hotel-Garni Haus. The center of the spa town with its famous promenade with many restaurants, stores and regional specialties can be reached quickly. As a guest of our hotel, you can easily go exploring at any time and discover the "gem of the Ammerland" individually.
There are 40 rooms to choose from. You can expect a modern lounge & hotel bar, coziness and a feel-good atmosphere in a stylish ambience.
Book a suitable room now and simply enjoy all the amenities and sights of the "USA" (USA – unser schönes Ammerland – our beautiful Ammerland).
Bookable categories at a glance
Our three comfort room categories in the NordWest Hotel "Amsterdam" differ in size and location. The rooms and the bathroom furnishings are visually in the same modern style. More facts and figures about our three room categories can be found here. Compare at your leisure, and you will certainly find the right category for your needs.
GOOD MORNING!
"The early bird… needs something tasty!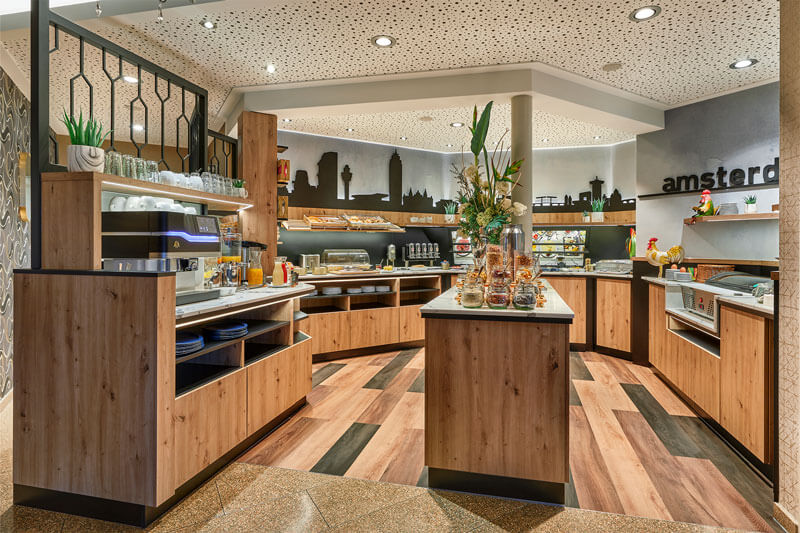 The best possible start to the day can only be achieved with the best products.
Guests of the NordWest Hotel can choose from a wide selection of sweet and savoury treats every day. These include sweet pastries, a choice of bread & rolls, various types of cold cuts, cheese, jams, honey, nut-nougat cream, muesli in many varieties, fresh fruit salad and yoghurt. A superfood bar with healthy toppings such as linseed, oat flakes and sultanas complete the offer. We pay particular attention to freshness and sustainability when it comes to animal products such as salmon, sausage & cheese products, eggs, milk, butter, yoghurt and cream cheese, as well as fresh fruit & vegetables, the various types of tea and the muesli. Hot dishes such as two types of scrambled eggs, bacon and sausages are of course also included. Guests can help themselves to unlimited hot drinks and juices every morning.
For guests with food intolerances, the sustainable breakfast buffet also offers a selection of gluten- & lactose-free products on request. Out-of-home guests can also start the day with a delicious breakfast with advance notice.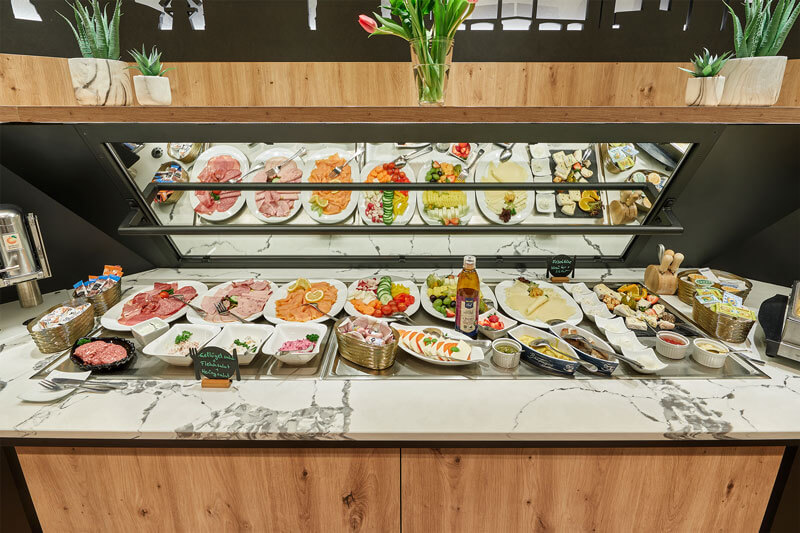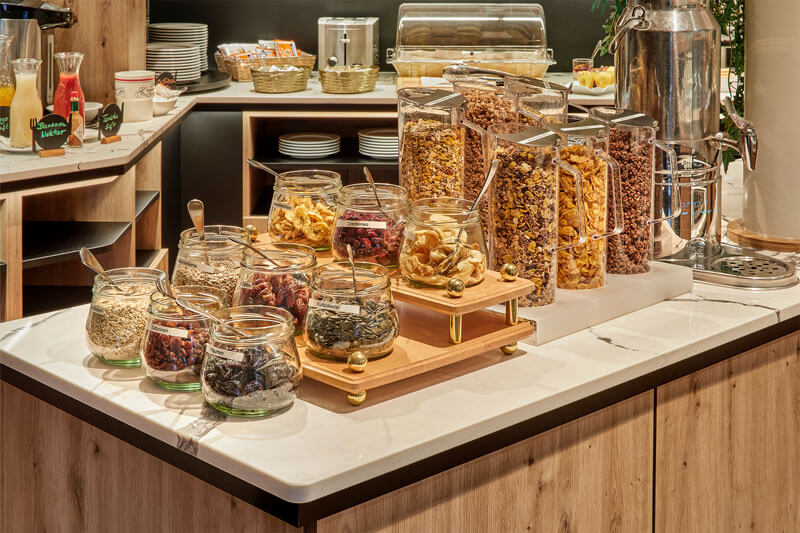 Lounge & hotel bar
Delicious snacks & cool drinks
We serve freshly tapped beer, innovative cocktails from the bottle, soft drinks, international spirits and a small selection of wines as well as coffee specialities such as cappuccino or latte macchiato. For your physical well-being, we offer crispy pizzas, hearty soups, snacks and delicious ice cream. In summer or when the weather is good, our large garden terrace is at your disposal.
The cosy and stylish atmosphere of our lounge & hotel bar invites you to linger. So after a long day, the hotel once again becomes a wonderful meeting place.
Bicycle rental, more about cycling
Wellness on wheels…ride a bike!
We are cycling-mad – are you too? Cycling is certainly one of the easiest, most beautiful and healthiest ways to get to know the country and its people in our holiday region. In the Ammerland Park Landscape, a well-developed network of cycle paths awaits you, which you can "experience" either by planning your own route or by taking one of the many cycle tours. Are you looking for cycle-friendly accommodation in Lower Saxony with opportunities for off-road cycling and, of course, a safe place to store your bike? We offer you just that and much more.
We kindly ask you to make your table reservations independently. Dates subject to change.